JDC1 CATCHES FIRE ON IN FLAMES' EUROPEAN ARENA TOUR
Swedish LD Fredrik Stormby has been making prolific use of GLP's new generation JDC1 hybrid strobe on tour with Gothenburg-based heavy metal band, In Flames, together with co-headliners, 5-Finger Death Punch (FFDP).

Having been operating lightshows for the Gothenburg-based In Flames since 2011 (and been designing their sets since 2014) Stormby wanted to focus on the artwork that the band had been developing for the current European tour.

"I wanted to use a lot of video and set elements," he said. "There is a lot of artwork and figures/elements to look at and my idea was to create an atmosphere and style that really represents the band; you should be able to see a picture and immediately tell that this is an In Flames show."

No fewer than 65 JDC1 hybrid strobes have been helping him in his quest, with Soundforce supplying all the In Flames gear, while Black Box was responsible for the overall shared package with FFDP, whose LD John Santos co-designed the flown rig with Fredrik Stormby.

The rig itself is dominated by 65 JDC1 hybrid strobes. Admitting he had little experience of GLP solutions until recently, Stormby states, "Like so many others I found the X4 Bar series to be an extremely useful fixture — and then I heard about the JDC1, and had the opportunity to try one out." He was soon test driving around 36 of the heads at a private party in Cannes.

"This gave me the confidence to specify them for In Flames," he admits. "We needed a bright LED strobe that we could pixel-map but also get a 'clean' white strobe from. So the JDC1 turned out perfectly, and it's a decision I have not regretted."

Distributed across all the LX trusses and ladders they are used as blinders, colour washers, pixel-mapping effects and strobe. "Therefore they play a major role in the show," he confirms. "We run them in full channel mode."

Asked what features really stand out with the strobe, and he replies, "Everything". By explanation the designer states, "This is a completely different product compared to a Xenon strobe, but I think it mimics the output of a Xenon strobe very nicely in white, due to the dedicated row of white LEDs."

The In Flames tour has been the latest project in an eminent career which has seen Fredrik Stormby and his Green Wall Designs team working with various Swedish and international artists, at the same time acting as programmers and content creators for events such as the Eurovision Song Contest and various TV shows, Festival shows, Theatre and Corporate events. He praises GLP for their back-up. "They have been generous with their support when we have needed it," he says.

As for the JDC1, he summarises by saying, "For what we are doing on this tour it is perfect — I am very happy with its ease of operation. It was up against a few really well known LED strobes and I think it provides a great combination between the best colour mixing models and those that mimic a Xenon strobe in white.

"This can do both of those things extremely well."

Supporting Fredrik Stormby and John Santos are Ishai Mika (In Flames programming), and the In Flames light crew comprising Christopher Engström, Rebecka Erixon, Krister Hedgren and Markus Pittlik. For Black Box, Carla Lumme was Lighting Crew Chief, Dominik Müller, Systems Designer & Dimmer, and Till Bredthauer, Head rigger.
See the use of 30 pieces of jdc1 in cannes
Below you can read about a high-profile event that took place in Cannes during the summer months. 30 pieces of JDC1 were used and the result you have here on film and also a review by competent Light designer Fredrik Stormby.
Enjoy!

"I recently had 30 units of the new GLP JDC1 hybrid Strobe for a private event and my overall experience is indeed very good.The fixtures were used as eye candy, color wash and strobe effects and pixel mapped from a hippotizer.
To start with, this is an incredibly bright fixture, both the RGB colour cells and the white strobe strip. I like the way the fixture is divided up in full channel mode, even the white strobe strip can be divided to 12 cells and added to the pixelmapping, which adds to the versatility of the fixture.
The dimming curve performs very well and colours are nice and even. Most important to me in this case, was the performance when pixemapping.
I think the fixture responds very nicely and performs very well even if the dimming level is brought down to a minimum.
The tilt function is very precise, smooth and fast and is also a great function of this unit. I will gladly specify and use this fixture again as a very all round and good looking strobe hybrid."

Fredrik Stormby
Light and content designer, programmer, operator
Green Wall Designs AB
50 pieces of X4 Bar 20 at tomas Ledins fall and winter show
Last month we told you about Palle Palmé and the 99 X-Bar 20 that were used on Diggiloo. This time Palle is relevant as the lighting designer at Tomas Ledin's show that had premiere September 15 and runs until December 16 at Circus in Stockholm. From next year you can se the show at Rondo in Gothenburg, premiere January 18.
This month we just want to show you some pictures we got from Palle and I was quick to ask him just one qustion, how did you work with the 50 pcs of X4 Bar 20 this time?
- I have used them as a side and top curtain effects in the stage house. Half of them will be placed in the sides of the set, possible to move sideways in and out. And the other half on top bars possible to move in and out of sight for the audience.
Now see for yourself and enjoy Palles work!

at the youtube channel glp impression can you look at product videos on all our fixtures
GLP Reaches New Heights at Prolight + Sound
Major new product launches combine with two world-class lightshows!
GLP had much to celebrate at this year's Frankfurt Prolight + Sound, where their profile reached a new zenith.

Aside from unveiling two revolutionary new products, the company did light up it's largest Frankfurt booth ever (#4.0, G20), incorporating a new version of the inspired lightshow designed by Los Angeles-based designer, Matt Shimamoto (Volt Lites) which has so impressed visitors to America's premier LDI Show in recent years. At the same time GLP launched the much-anticipated JDC1, a true hybrid LED strob!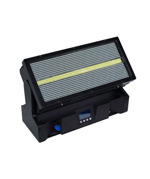 The powerful JDC1 has been designed to deliver unprecedented versatility. The fixture contains a traditional single tube element with an incredibly clear, bright white output; this combines with a surrounding full face of RGB LED power, utilizing 1,440 high quality LED's. The possibilities are endless as these two elements have independent control and can be used as separate pieces, or combined for stunning effects.
In addition to working as a powerful strobe light, both the tube and the full-face sections can be run continuously for high output blinder and wash light effects, which never reduce output or have thermal cut-outs.
The JDC1 is a whole new class of strobe that offers an incomparable feature set that goes way beyond the definition of a hybrid.
Read specs or get your ex here!
Also on show was the new Free Connect unit for the X4 atom, giving users the freedom to use individual Atom heads in any location. Completely free of wires, the Free Connect contains a rechargeable battery and inbuilt Lumen Radio CRMX wireless DMX control, all packed into a smart housing that features an IP65 rating, matching the X4 Atom head. It features an 8-hour running time while an on-board menu allows users to customize the operation of each Atom and the ability to store a DMX snapshot for playback without a controller.