99 GLP X4 BAR DOMINATE DIGGILOO STAGE SET
PALLE PALMÉ SPECIFIES AWARD-WINNING FIXTURE FOR SWEDISH TOURING PRODUCTION
For the 15th consecutive year, Swedish LD Palle Palmé has provided spectacular lighting for the Diggiloo outdoor summertime tour, with 59 X4 Bar 20's and 40 X4 Bar 10 from GLP dominating the ever-changing stage set.
Having worked on the event since its inception in 2003 (when it appeared only in Båstad), Palmé says that despite the number of famous artists appearing all receive equal billing — "and that is the success of Diggiloo."

Heading the roster this year has been Robin Bengtsson, winner of the Swedish Eurovision Song Contest, performing alongside Tommy Nilsson, David Lindgren, Wiktoria, Charlotte Perelli, Jessica Andersson, Bruno Mitsogiannis, Andreas Johnson and Özz Nujen throughout the 22 gigs.
Palle Palmé has again turned to GLP's super-versatile X4 Bar battens — an effect he has used on at least five occasions since November 2015. "I was originally given a demo by [Swedish GLP representative] Daniel Rudén featuring all the new fixtures including the X4 Bar 10 and X4 Bar20," he stated. "All were spectacular units."
"The zoom and the tilt range on the Bars is amazing, and then you have a fantastic light output as well. I have not seen any unit on the market so far that can stand comparison. I know that other brands are looking at this but as someone said, 'Why compete with those battens when GLP has already made the best possible?'"

Diggiloo relies on a series of scene changes with different colours introduced, which is where the X4 Bars come in. "I have tried to place them as big as possible in the rig," the LD explains. "This is both above and on the stage floor, over and under the video screen, and as clusters on both sides of the screen, as well as the side trusses. All in all, we try to embrace the entire stage with those battens." The lights are run in Single Pixel Mode (88 channels).
And they are used in a multitude of different modes. "Because it is an outdoor show, and the first act appears in daylight, I use them mostly as a white light effect on the stage with not so much tilting, zooming and colour FX. That is introduced with the second act when the sun has gone down and it is dark."

"Overall I think that the XBar 10 and 20 really bring something else to the set dynamic than the 'normal' moving light does. You can use them as stage wash, set wash, audience blinders, curtain effects, etc. If you use them intelligently they are a great tool for all kinds of show, regardless of whether it is a musical, concert, opera, ballet or a drama. They will surprise the audience everywhere."

All the technical inventory, including the lighting, was supplied by Swedish company Bright with the exception of the video, which is from Mediatec.

Pictures: Malin Nilsson
LD PALLE PALMÉ CHOOSES GLP FOR DANNY SAUCEDOS SHOW!
Danny Saucedo is doing an amazing show at Hamburger Börs and Kristin Lundell who writes for the newspaper Aftobladet gave the show four out of five and a quote that can be read:
- The choreography is gorgeous just like the set design. Then we have not even begun to talk about the powerful light projections on stage, amazing!
With these words, we thought It was time to ask some questions to Palle Palmé, lighting designer behind this success.

Palle, what effect were you looking for when you chose GLP's Impression X Bar 20 to this set?
Since I got the opportunity to use the X Bar 20 in a show at Berns for little more than a year ago, I have had a preference for these ramps. I think they are revolutionary with all it's possibilities as fast tilt, zoom and extreme brightness.

Would you describe how you use the fixtures from GLP and how they were placed at Hamburger Börs?
When the planned set design was shown to me, I felt right away that three rows of X4 Bar 20 could do an excellent job, and that they did. I use a total of 18 pieces in rows of 6, over the floors, ceilings and the orchestra. They are simply fantastic for this show and some moment couldn't be done without them. The possibility of these battens are completely unique. In the old days, you could use Svoboda-ramps with color changer but nowadays these are not as up to date as these bars, and X4 Bar 20 do the job with much better accuracy.

Will you use GLP fixtures again and are there any specific features you have used and appreciate?
- I've become very fond of these fixtures (X bar) and always have them in my mind for future productions.
I also love the X4-L fixture, It is extremely bright and versatile with a number of built in features that are very powerful.

We at GLP Nordic would like to say thanks to Palle Palmé for this and wish him good luck with future productions.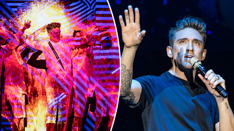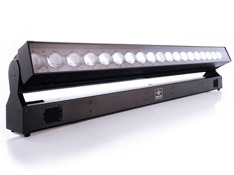 GLP BARS LINE UP FOR CARLSBERG'S GREEN DOOR PROJECT.
Designed to explore the future of Swedish pop culture and the club scene, by featuring some of the country's progressive artists and DJs, the venue is always kept secret until the day before the event. This year, party organizer Peter Björklund revealed the venue as the Metallgjuteriet, the second largest hall in the Nacka Strandsmässan exhibition / event venue. In this extremely long and narrow room a crowd of around 2,200 joined the action, making the event the largest party of its kind yet.

Lighting designer was Anders Heberling who specified 50 of the X4 Bar 20 LED battens, along with eight of the enormous (and extremely bright) GLP X4 XL heads and a further eight of the compact X4 S, with the same impressive zoom. These were supplied by Bright Group Sweden AB, with some of the equipment sub-hired from Motion in Germany. Project manager was Magnus Karlsson, Head of Lighting at Bright Group.

Tasked with lighting up-and-coming artists such as Gravity Boys & Bodycam, Mabel, Helh and Sammy & Johnny Bennett, Anders said, "When I first saw the room I immediately knew I wanted to use one main fixture and hang down the length of the entire room, to create a kind of runway to the stage."

When the stage location was set he realized he had a massive 48 meters to work with. "It was an easy decision to use 48 of the X4 Bar 20's — this served as both live performance lighting and audience lighting," he said. For stage effects during the live performances he used eight each of the X4 XL and X4 S, positioned around the stage, and this collectively delivered more than sufficient fire power.

Although nothing was custom built, the rig was anything but conventional. "Green Door Project, for me, is about trying to bring the performances and audience together," continued Anders. "With the line of Bar 20's running from the rear wall to the DJ, this feeling was accomplished. The room felt both big (which it was) yet intimate at the same time."

Using the X4 Bar 20 over stage as front lights had worked surprisingly well, he confirmed. "I could let the performers walk through the razor-sharp narrow beam but then set it in wide mode for a powerful wash effect, enabling the audience to see who was performing."

Summing up the event, Anders Heberling said he had been hugely impressed by the impact of the GLP X4's, and in particular the X4 Bar 20. "It is remarkably easy to use, and the rigging and alignment features are simple yet robust. Programming in Single Pix mode combined with the exceptional color mix, zoom speed and tilt speed, opened up the possibility for a lot of creative programming, in basically no time.

"As for the X4 XL, this is really bright! Used mainly as back lighting, the fixtures washed out the room in a spectacular way. They also worked very well as strobes and generated an Impressive color mix."
SEE OUR AWARDED BOOTH SHOW FROM LDI 2016