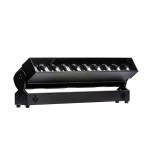 Following on from the groundbreaking impression X4 Bar, GLP introduces the impression FR10 Bar, a linear format fixture that offers unrivaled output and creative control, whilst blending in with the existing X4 Bar series.

With a new optical system, the impression FR10 Bar uses a larger size output aperture, as used in the impression FR1 giving a new look to the familiar style. The FR10 Bar contains 10 sources, each containing a high output 60 Watt RGBW LED that color matches the entire impression X4 and FR series of fixtures. Each individual source features smooth, full range color mixing with strong, punchy output from a homogenized Fresnel lens. Along with individual color control, the FR10 Bar contains a series of built in color macros and a range of color filters.

The impression FR10 Bar has the incredible ability to control each zoom lens individually and independently. With a 10:1 ratio zoom range of 3.7° to 35, this functionality brings a whole new level of creativity, design possibility and flexibility to the concept of linear lighting.

At its' narrowest angles, the batten produces clean, seamless flat sheets of light that are incredibly dramatic and piercingly beautiful, along with arrays of pin point beams of light.

At wider angles, the impression FR10 Bar can wash areas and surfaces of stages, walls, cycloramas and much more. The addition of individual zoom control gives huge mid-air possibilities, along with the subtlety when needed, to get clear focus control on specific performance areas, at an individual pixel level.

Utilizing the same physical construction as the popular X4 Bar 20, the FR10 Bar matches the X4 Bar 20 in length allowing the fixture to work effectively with the existing fixture. And just like the X4 Bar, the FR10 Bar features consistent pixel spacing between fixtures when using multiples connected together.

With its seamless integration, the FR10 Bar features 16 bit movement through a tilt range of 210 degrees, with integrated feedback. Power and data connectors are contained within the base of each unit for simple daisy chaining of multiple units. The FR10 can be rigged in any orientation and has in built rubber feet for floor mounting. Built in safety attachments, base handles and a tilt lock for transportation are all standard, along with a battery controlled menu system for easy fixture setup at any time.

The impression FR10 is powered from a fully auto sensing power supply for use around the world and uses Neutrik True1 connectors, input and output, whilst 5 pin XLR connectors and etherCON support sACN, Artnet, DMX and RDM protocols.

While maintaining perfect backwards compatibility, The impression FR10 Bar gives designers more flexibility than ever before, and takes linear lighting to next level.
LIGHT SOURCES
10x 60W, RGBW LED's
Average service life: 50,000 hours
CRI (Ra): 80+
CQS: 80+
TLCI: 80+
TM-30Rf: 77
TM-30Rg: 106
OPTICAL SYSTEM
Motorized zoom system with 3.7° to 35° light distribution angle
Zoom Ratio 10:1
Output: 8,000 lm
Variable PWM up to 25kHz for flicker free operation
MOVEMENT
16 bit resolution, 210° motorized tilt
Position feedback
EFFECTS
RGBW color mixing
Variable CTC 2,500 – 10,000K
Continuous dimmer 0-100%
Electronic shutter
Variable speed strobe between 1-10 flashes per second
Random strobe effect
Pulse effects
Virtual color wheel with 15 colors and random effects
CONTROL
Supports sACN, Artnet, DMX-512 and RDM protocols
Full pixel mapping control
Very quiet, temperature controlled ventilation system
Convection cooling option
Back lit graphic LCD menu
Battery operation of menu
Over temperature protection
Color calibration feature
POWER SUPPLY
Auto ranging power supply
100 – 240 VAC / 50 – 60Hz
CONNECTORS
XLR 5 pin (in and thru)
etherCON (in and thru)
Mains: Neutrik True1 (in and thru)
OPERATING CONDITIONS
Maximum ambient temperature: 113°F (45°C)
Minimum ambient temperature: 40°F / (5°C)
MOUNTING OPTIONS
Omega bracket (X4 Bar 20 style) attachments mount directly to rear of fixture
Attachment points for safety wire
Built in rubber feet for floor mounting
SHIPPING
Cardboard box
3 way tour pack complete with omega brackets and flight case
HOUSING COLORS
Standard color is black
For other colors please contact sales department
DIMENSIONS
(L x W x H): head vertical
7.7in x 39.4in x 13.3in (19.6cm x 100cm x 33.9cm)

NET WEIGHT