IMPRESSION FR1 TRACK MOUNT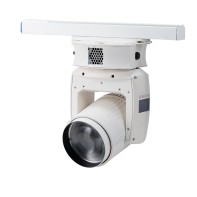 he impression FR1 Track Mount version features the EUTRACK 3 circuit power track adapter for quick and easy installation. The FR1 TM features wireless DMX streamlining the set up process. As with the original FR1 fixture, GLP's signature baseless design and cone antenna keep the fixture sleek and unobtrusive. With various fan and performance modes the fixture can be ran with silent operation in noise sensitive environments.

The impression FR1 uses a high powered 60 Watt homogenized RGBW LED at its core, the impression FR1 features color mixing across a vast spectrum, whilst at the same time can project a crisp, punchy white light, with a full range of color temperature control.

Optical quality is at the forefront with the impression FR1 as it provides a clean, homogenized output at all angles, always giving a clean beam from center to its extreme edge. This consistency and attention to detail allows the impression FR1 to be used in a large range of applications where compromise is not an option.

A super-fast 3.5° to 35° zoom range gives full beam control over both short and longer throw distances and because of its power, the FR1 can project over a long throw.

With quality comes accuracy, and in this area the impression FR1 features 16 bit dimming and 16 bit position control through a range of 540° of pan and 220° of tilt. But with an added kick, the FR1 also has the ability of bi-directional continuous pan rotation at varying speeds from slow and gentle, to extremely fast giving that little something extra when needed.

From lighting art to centerpieces, from exquisite costumes to close up displays, the impression FR1 offers an outstanding combination of quality, power, size and ability, and with a little kick of fun when that matters too..
LED-SOURCE
LED-Type:60W RGBW Ostar Led
Lifetime (Hours):50.000H
CRI (Ra):80
TLCI:80
TM30-15:77/106
OPTICAL SYSTEM
Focused octagon beams with very narrow 3.7*

Fast 1:10 zoom with a flat field wash of 35*
​​​​​
MOVEMENT
Standard range of 540* Pan / 220* Tilt

Continuous pan rotation available, variable speed, CW and CCW

16-bit Resolution and position feedback
CONTROL
Wireless DMX using Lumen Radio CRMX
Back-lit high contrast graphic LCD menu
Over-temperature protection
16 DMX channels​​​​​​​
EFFECTS
Virtual color wheel - match referenced LEE colors

color temperature control, 2,500 K - 10,000 K

​​​​​​​
SHUTTER / DIMMER
Flicker free operation with variable PWM

Smooth electronic dimming from 0-100% with different dimming curve options

Variable electronic strobe 1-10hz

Pulse and random effects
CONNECTORS
EUTRACK 3-circuit power track adapter
OPERATING CONDITIONS
IP 20
Maximum ambient temperature : 104F (40*)
CONTROL
Wireless DMX using Lumen Radio CRMX
Back-lit high contrast graphic LCD menu
Over-temperature protection
16 DMX channels
SHIPPING
DIMENSIONS & WEIGHT
(L x W x H): head horizontal, Zoom out
8" x 9" x 11,7" ( 20.3cm x 22,8cm x29,6cm)