The JDC Line offers an incredibly bright RGB Pixel mapping effect mixed by a special 500mm lens tube which gives a unique look and stunning new design options. The fixture features a 25mm pixel pitch meaning pixels appear seamlessly, next to each other. Each pixel segment can be split into upper and lower part offering additional flexibility in creative options.

The second part of the fixture is a powerful strobe tube, well known from the JDC1's powerful center beam of LEDs.
The JDC1 Strobe LEDs emit into the same lens tube as the RGB Pixel Mapping LEDs and also offer a segmentation of 25mm for stunning dynamic effects.

The idea to emit the powerful strobe and the RGB Pixel mapping output through the same lens tube creates an incredible look and avoids seeing ugly separate LEDs or light refl ections from white face LEDs. The JDC Line is available in two different versions: The JDC Line 500 offers a width of 500 mm and the JDC 1000 a width of 1,000mm.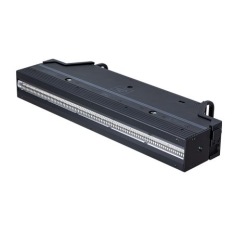 LIGHT SOURCE
Dual mode – high powered white tube LED's surrounded by RGB plates
Strobe Panels
JDC Line 500: 200 RGB LED
JDC Line 1000: 400 RGB LED
STROBE TUBE
JDC Line 500: 100 W LED
JDC Line 1000: 200 W LED
CONTROL
Display
Illuminated graphic LCD
Self charging buffer battery
PROTOCOL
DMX-512
Cooling
Temperature controlled
Overheating protection
CONNECTORS
DMX data
XLR 5-pin in/out
Mains power
Neutrik TRUE1 input
OPERATION CONDITIONS
Maximum ambient temperature: 115°F (45°C)
Minimum ambient temperature: 40°F (5°C)
IP20
POWER SUPPLY
Mains voltage: 100-240 VAC / 50-60Hz
Power (Watt @ 230V)
JDC Line 500: 700W
JDC Line 1000: 1,400W
MOUNTING OPTIONS
Omega bracket attachments mount directly to rear of fixture
Attachment points for safety wire
Built in rubber feet for floor mounting
Any orientation
SHIPPING
Cardboard box
Housing Colors
Standard color: black
Optional: special colors on request
DIMENSIONS
(L x W x H): head vertical
7.9" x 20" x 2.9" (20.1 cm x 50.7 cm x 7.4 cm)
7.9" x 40" x 2.9" (7.9 cm x 100.7cm x 7.4 cm)
WEIGHT
Weight JDC Line 500: 13.2 lbs. (6 kg)
Weight JDC Line 1000: 26.5 lbs. (12 kg)