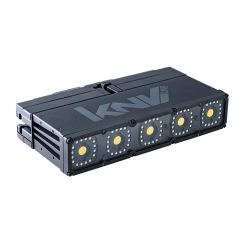 A multi functional fixture, the KNV Line takes the concept of physical flexibility and combines it with the raw power of the KNV system. Able to run individually, or combined together, this new addition to the KNV system is the perfect answer for small, compact locations right up to large format design integration.

With 5 high powered RGBW pixels in a simple linear format, the KNV Linehas the ability to join seamlessly with the KNV Cube and KNV Arc. It features an attachment point on each side allowing it to couple directly to other KNV units and seamlessly extend both simple and complex structures, in cooperation with the KNV Cube and KNV Arc. Each KNV Linecontains 5 of the same RGBW pixels as featured on other units in the KNV system with full color mixing, dimming and shuttering power, with complete pixel mapping capabilities.

Whether adding a small sliver of an extension, creating a juxtaposed design structure, or a extending a simple linear length, the KNV Linebrings great flexibility to any lighting and set design.

The KNV system has an immense output when combining its elements, with each KNV Line unit capable of producing 10,000 lumens, and a full size KNV Cube producing more than 50,000 lumens. Utilizing its power to the max, the fixture has been designed to output continuously at full output. Creating the brightest blinder and wash light effects, without ever thermalling out or reducing its output level.

All KNV system fixtures are IP54 rated. Ready for those outdoor summer festivals and all the rain they traditionally bring. But not only that, the IP54 rating allows the units to be used on events year round, in even the toughest of weather conditions.

The KNV Line and KNV Dot are powered from an external power supply reducing the size and weight of each unit and increasing their ability to be placed in the tiniest, tucked away locations. KNV units are daisy chained using industry standard 4 pin XLR cables that carry both the power and data signals.

Each power supply unit can run up to 25 pixels, with any combination of KNV Line or KNV Dot able to connect together, up to the maximum pixel count.

Whether used as a stand alone or combined with other KNV fixtures, the KNV Line and KNV Dot offer some powerful design options in a multitude of applications.

All KNV fixtures feature Neutrik True1 power in and out connectors, along with Ethernet in and out for data. A full range of PWM settings ensure flicker free operation in any setting, along with the option to operate the LED's in either 8 or 16 bit.

The KNV system from GLP; a new mighty powerhouse.
LIGHT SOURCE
5 hyper bright 30 watt, white LEDs, each surrounded by 16 RGB LEDs
11,000 lm
CONTROL
Protocols: DMX 512, ArtNet, sACN
Mode (TBC): 10, 17, 37, 83, 29, 102, 202
Variable PWM, up to 38khz
EFFECTS
16 bit RGBW color
16 bit electronic dimming
Variable strobe: intensity,flash rate, flash duration
3 layer FX engine
CONNECTORS
Power: Neutrik True1 input and output
Data: Neutrik Ethercon input and output
OPERATING CONDITIONS
IP54 rated
Maximum ambient temperature: 115°F (45°C)
MOUNTING OPTIONS
Floor stand
Hanging bracket
Any orientation
Frameless design allows units to be seamlessly coupled together.
SHIPING
Cardboard box
Flight cased tourpack
HOUSING COLORS
Standard color is black
For other colors please contact sales department
DIMENSIONS
KNV Line: 6.5″ x 9.84″ x 1.97″ (16.5 cm x 25 cm x 5 cm)
KNV Dot: 3.1″ x 3.86″ x 3.86″ (7.8 cm x 9.8 cm x 9.8 cm)
KNV Cube: 7.2″ x 9.8″ x 9.8″ (18.3 cm x 25 cm x 25 cm)
KNV Arc: 7.1″ x 15″ x 10.5″ (18cm x 38cm x 26.6 cm)
NET WEIGHT
KNV Cube: 20.5 lbs ( 9.3 kg)
KNV Arc: 21.3 lbs (9.7 kg)
POWER
External KNV PSU
Max fixture count: 5 KNV Line fixtures
Power-Data cable EN3