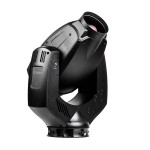 The impression S350 offers an unparalleled feature set for its size. A highly efficient optical system uses a powerful 6,000K white LED engine at its core, producing bright clarity in the projected beam. Additionally smooth dimming using a brand new 16 bit, 3D dimming algorithm and even field distribution along with clear image projection are all standard in the S350. While maintaining a significantly brighter output than typical 700W discharge lamp sources.

With near silent operation, the S350 is suitable for every kind of venue and event that needs a powerful fixture in a small and subtle housing.

The color capability of the S350 comes from a full CMY color mixing system, supported by a fixed color wheel with correction filters. Beam control begins with a 4 blade framing system with each blade capable of closing across the entire beam, all within a rotating gate. This is supported by a full beam rotatable and repositionable animation wheel, alongside a rotating gobo wheel with 7 positions plus open and a static gobo wheel with 10 positions plus open, and a rotating prism. Also included are 2 selectable frost filters, giving the option of both light and heavy frost effects. Beam control capabilities include motorized focus and a zoom that gives a wide range of 8° to 41°.

The S350 features GLP's unique baseless design with full 16 bit pan and tilt movement. As well as full range 16 bit dimming, and electronic shutter capability. With a low weight of just 56 lbs. (25.4 kg). The S350 also features an inbuilt battery for fixture setup, an auto sensing power supply and the option to have wireless DMX control.

The impression S350 spot fixture is a class leader in all areas.
LED-SOURCE
Lamp type: LED 350 W
Lifetime: 20,000 h
Color temperature: 6,000 Kelvin
CRI: >90
TLCI(Qa): 90
CQS: 90
Rg:96
Rf: 87
Light output: 7,226 lm (narrow 8° ) – 8,881 lm (medium) – 8,928 lm (wide 41°)
OPTICAL SYSTEM
Min. zoom: 8°
Max. zoom: 41°
Focus: motorized 2m – infinite
MOVEMENT
EFFECTS
4 blade framing system, each having complete beam coverage
Rotating gate through 90°
Dimmer: 3-D dimming algorithm
Shutter: electronic shutter
Effect wheel: prism
Frost: 2 variable filters for light and heavy frost
Gobo wheel 1
7 gobos
10 fixed gobos
10 color filters
Full CTO 3,200 K
1/4 CTO 4,600 K
CTB 9,000K
CMY color mixing
POWER
CONNECTORS
XLR 5-Pin In/Out
XLR 3-Pin In/out
MAINS POWER
OPERATING CONDITIONS
Maximum Ambient temperature 115*F (45*C)
MOUNTING OPTIONS
Upright: removable tripod base (supplied) with brackets for ratchet belt
Hanging: 2 x M10 socket for half coupler, or other clamp Omega brackets (optional)

2 attachment points for safety wire

Any orientation
SHIPPING
Cardboard box
2 way tourpack complete with omega brackets and stacking flight case
HOUSING COLORS
Standard colors:Black
Optinal : Special colors on request

DIMENSION & WEIGHT
L X W X H): Head vertical
18.6" x 9.4" x 25,8" (47.2 cm x 23.9cm x 65.5 cm)
25,4 kg / 54 lbs