THE NEW X5 Serie are REAdy to Global Launch 16 Februari 2022, Be Ready. #Limemakesthedifference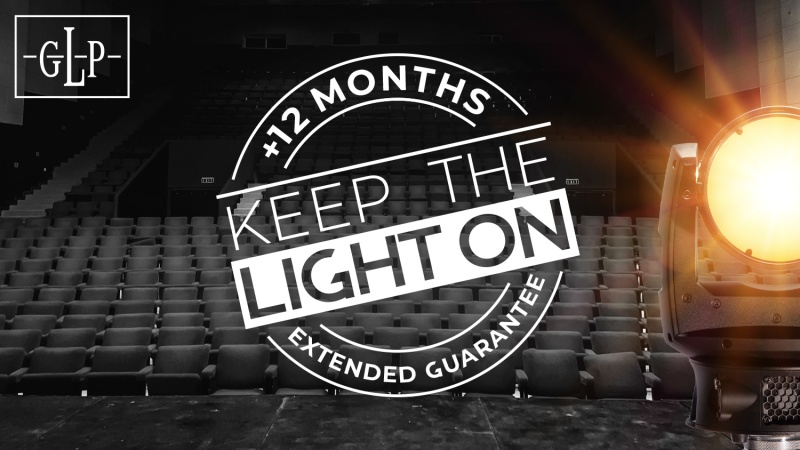 German based automated lighting manufacturer GLP (German Light Products), has taken an unprecedented step in its determination to support customers during the ongoing COVID-19 pandemic.

Today it announced an automatic 12 month product warranty extension for any GLP product whose original warranty was due to expire between April 1, 2020 and March 31, 2021. The company has been using the hashtag #keepthelighton (and #KTLO) since the beginning of the pandemic, and is living up to this motto by taking this important decision.

"GLP recognizes and understands that the vast majority of our products have been sitting idle for many months, and will continue to do so in anticipation of their next call to duty," declared Udo Künzler, managing director of GLP GmbH. "Therefore, we wanted to make a full show of support to our loyal customers, whose livelihoods depend on those fixtures being used."

The yearlong extension is being applied to every product within the GLP portfolio. Furthermore, in order to simplify the process, this extension has already been registered through every GLP office and those of their distributors. Customers need take no action in order to ensure that the extension will be applied – it's already been done.

"As a global manufacturer, supporting our customers and our products around the world is of paramount importance to us," continued Udo Künzler. "Whilst the pandemic continues to wreak havoc amongst our users, we wanted to bring a level of reassurance that they are not going to lose out on warranty status through the time that products are not being actively used."

Any questions regarding this policy should be directed to the local GLP office, or GLP distributor.
Läs hela inlägget »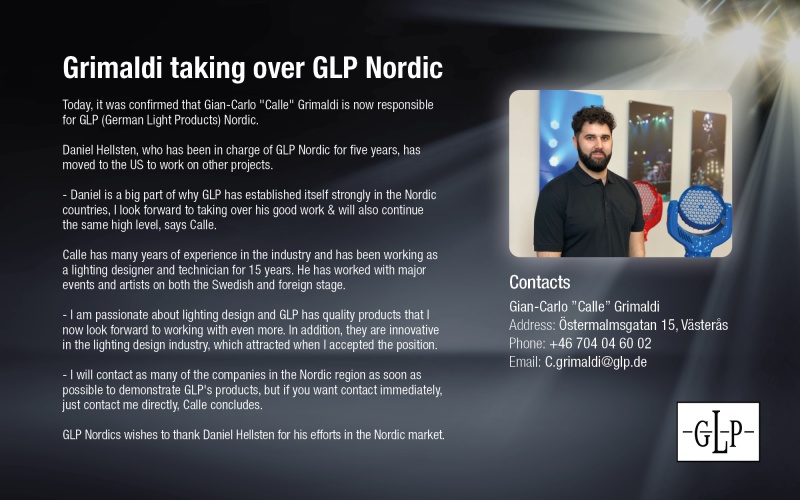 GLP CELEBRATES 25 YEARS WITH a festive discount!




The following fixtures are now offered to a 20% extra discount on top of your ordinary discount!

S350
The new GLP impression S350 is the next generation of LED Moving Head Profiler, with an uniquely designed full spectrum light source, which makes primary color more intense, pastel colors more natural, and colored objects and skin-tones more lively.

E350
The new impression E350 is the brother of the impression S350 LED Moving Head. With its 30% brighter LED engine and very narrow iris, the fixture fits for a variety of applications. With a color temperature of 7.500K, it is able to create sharp midair effects and bright gobo projections.
KNV Arc & KNV Cube
The KNV from GLP comes in four variants, the KNV Cube, KNV Arc, KNV Dot and KNV Line. Each housing can be used independently, or combined seamlessly to provide massive fixture design options.

Featuring 1, 5 or 25 high-powered pixels with white and RGB elements and a combined output of more than 50,000 lumens, each KNV is equally happy used as a pixel-mapped surface, strobe, blinder, washlight, and more.

IP54 housings allow KNV units to be used year round, in even the most inclement conditions and climates. An included DMX pattern generator offers multiple effect libraries, with multiple controls creating a vast array of graphic options.

reflecting x4s in focus during Maggio's summer tour!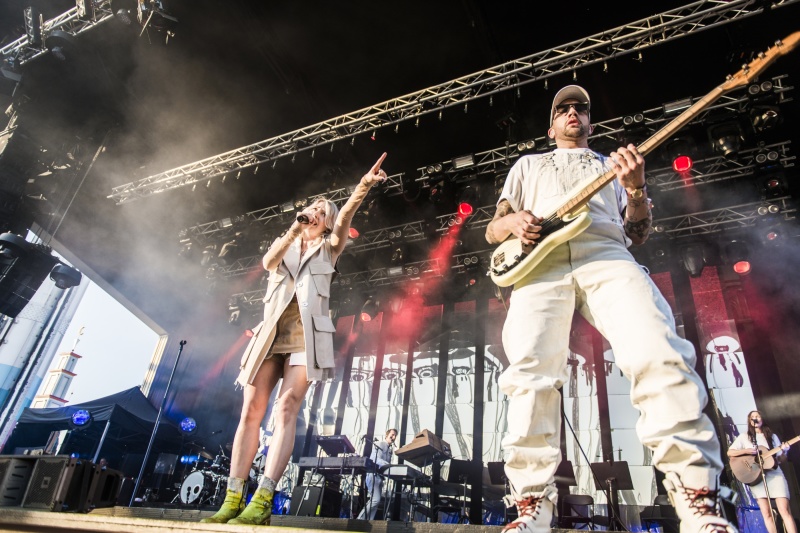 During the summer of 2019, Veronica Maggio performs at different festivals around Sweden and just like the last three years (with an exception in 2017), Anders Heberling is the man who designs the lights. The overall theme for this year's scenography & costume is mirror or reflecting materials, an idea that inspired Anders after some shows last year.

"Last year (at shows in corporation with H&M at Cirkus), we made a huge infinity-mirror. Then the idea of making this at other light sources and adjust for festivales, came to mind."

In his design, Anders chose to use 20 X4-Bar 10 and 8 X4L with a custom-designed mirror glass to enhance the reflecting theme.

Picture: Anders Heberling
"The reason I chose these, was because the plexiglass easily could be switched to custom made half-mirrored variants. In other words, the fixtures still let light come through while working as mirrors at the same time. This in combination with an LED-wall covered with the same plexiglass made everything feel consistent."

The fact that these fixtures also gives great colors and nice pixel macros made GLP's lights the obvious choice.

When the idea was about to be tested GLP provided equipment for borrowing to send to the plexiglass-supplier for testing. After that, new glass for the lights was ordered via GLP, something Anders appreciated a lot.

Operator and programming was managed by Nikolaj Brink and Bright Rental provided the fixtures.

x-bars & jdc-1 - when hampus jigehamn manage the light
After working with Darin during spring 2018, it was once again time for Hampus Jigehamn to manage the light design, this time during May 2019 for the Arena Tour at Globen, Scandinavium & Malmö Arena.

Together with Sacha Jean-Baptiste the stage design was developed with the idea to create a form of clarity with pure shapes & most of all, a centre or corridor for Darin to move in.

In his design Hampus chose to use GLP's X4 bar, in total 107 X4 Bar 20 and 4 X4 Bar 10 as well as JDC-1 and he describes how they were placed. "21 X4 bar 20 were placed in a truss US (21m wide) and 20 X4 Bar 20 on the floor DS (20m wide). The remaining X Bars were placed in the 12x6m big box across the stage. Besides that, we used 70 JDC-1 at the back of the stage, placed as two grids of 7x5 on either side of the LED-wall."

Why these exact fixtures were used was partly because his liking for the X bar but also because of Sacha. "I have always liked the X Bar. I like general straight lines with lights, and the X Bar works best like that. I also like the simplicity of the lamp, in comparison to for example a moving head where you get a thousand different features while you maybe only use ten, you get to use the X Bar to the fullest."

"Sacha had fallen in love with the JDC-1 as a fixture and I love it too because you don't need to see a square plate while using the "strobe pipe" and additionally you can set colour markings with it."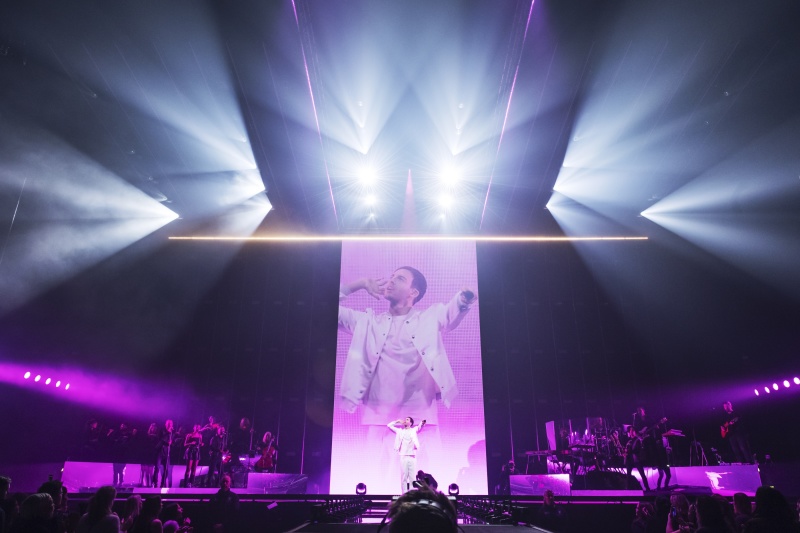 Bright Group Sweden a long with United Stage delivered the equipment and the crew from GLP assisted with knowledge about firmware and likewise.

During the summer of 2016, Hampus also used GLP's products for the tour with Miriam Bryant. At the moment he will enjoy parental leave for a while before he's out on tour with her again. Although this is the first year they won't be using any GLP products, Hampus says he would not be surprised if he used them again in the future!

Finally, Hampus wants to thank the production company, management, light-sound-video-laser-crew, Sacha Jean-Baptiste, Victor Rundlöf (Green Wall Designs AB) and of course, Darin.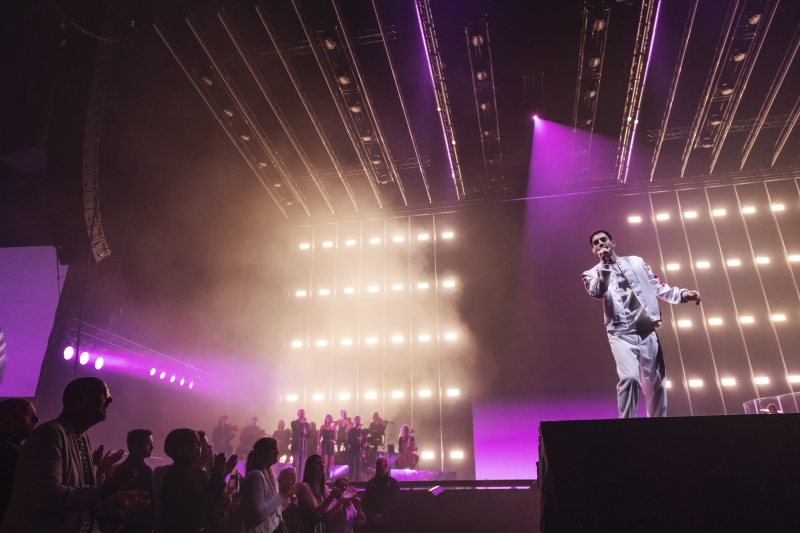 Pictures: Stina Stjernkvist
Jakob Larsson uses full GLP armoury for Hov1
GLP will again dominate his summer festival rigs for multiple artistes
Swedish hip hop group, Hov1 recently played a series of mid-sized domestic venues of around 3,000 capacity on their first Until Next Time production tour.

Jakob Larsson was responsible for the lighting, drawing heavily on industry-leading LED fixtures from GLP — a brand that has been a feature of his toolkit for many years.

Taking advantage of the huge advances in technology the LD was able to requisition 22 of the manufacturer's ground-breaking JDC1 hybrid strobe from rental company Bright Group Sweden, along with 80 GLP X4 atoms and 24 X-Bar 20.

Larsson explained his design concept. "As there are only four people on stage, I needed to create big looks, using light as a décor element as well. We decided to go with a 'pod' design and we also decided early in the process that we needed an A-stage and B-stage to bring the show closer to the audience. Along with show director Sacha Jean Baptiste we then had a bunch of creative meetings, along with the band, to put together the show."

The JDC1 features in the upstage pod on low trim height with three rows of JDC-1 with seven fixtures in each row. The atoms were placed as a side light creating beams onstage, but mainly they were used in a square over the B-stage. "These created awesome matrix effects," he said. "That idea turned out really great." Finally, all the Bars were placed on the floor on the downstage edge of the A-stage, and all around the B-stage to enhance the square shape.

He added that his first deployment of JDC1 in a touring show had been a major success. "The idea was to create a bright wall of strobes and frankly there is no alternative to this fixture with the same features in the market.

"The X4 atom was incorporated in the design to create bright LED beams in large quantities. And as I knew there were a lot of these fixtures available in Sweden, it was the perfect choice."

And he was even more effusive about the X4 Bar 20. "This is a fixture I want in all my shows and designs regardless of the project. It's an incredibly versatile fixture that can be used in so many ways. In this project it was used as uplights on the downstage edge. These fixtures were actually the only front light in the show. The X4 Bars were also used to build walls of lights around the B-stage. This worked brilliantly thanks to the bright output and big zoom range."

This summer Jakob Larsson will be working the Festival season with an array of artistes, including Sabina Ddbuma, Rebecca & Fiona, Norlie & KKV, Daniel Adams Ray … as well as Hov1. "I will again use GLP products in all of the productions, mainly X4 Bars and JDC1," he promises.

Finally, he credits Daniel Rüdén from GLP Nordic for his assistance in sourcing the fixtures and providing general support.



SWEDISH HOUSE MAFIA'S ULTRA SUCCESS, WITH GLP AND ANDY HURST
House music giants reunite for stunning show aided by X4 Bars and JDC1 strobe
When Swedish House Mafia (SHM) decided to reform after five years, providing the Ultra Music Festival in Miami with its surprise headline act, production designer Andy Hurst was brought in to design the extravaganza.

Already the show designer for Axwell and Ingrosso, two of the band members, he immediately turned to GLP's LED catalogue, procuring 60 JDC1 hybrid strobe and 96 impression X4 Bar 20 from PRG in Las Vegas, knowing that SHM would be the closing act. "As the festival main stage design was changed one month before the show we had to work quickly to get a new SHM design signed off and ready in time," he explained.

His main challenge was to interface with the existing house rig, supplied by AG Light and Sound. "We had to have our entire system set in 35 mins.
In that time we had to fly our back wall, set our custom DJ riser and roll in our lighting, laser and pyro package."
Hurst is no stranger to GLP's advanced solutions, having specified their products for many years on other acts with whom he has worked regularly, such as Prodigy and Faithless.

"I had seen the JDC1 at LDI and was impressed with the brightness and ability to provide lots of different effects," he said. "We ran them in full 68-channel mode using all the attributes.

"The strobe effects were used to drive beats and nuances within the tracks, which they did perfectly."

The Bars were used in a giant wall of light behind the artists on the 20ft x20 ft x16ft truss cube platform and also for a light wall on the DJ booth, where they were also used in full DMX mode.

Andy Hurst had the opportunity to pre-programme the show at DMD Studios, with GLP supporting this by providing some fixtures to check programming in real life, along with the full size virtual rig that was created in the studio. "Having the fixtures when programming is always essential for me … as good as pre vis is, you can't beat the real thing."

And with more than 150 GLP elements joining lighting, laser, flying set pieces and pyro, it is no surprise that Andy Hurst was able to confirm that "the show was very well received and the guys loved it."
JDC1 CATCHES FIRE ON IN FLAMES' EUROPEAN ARENA TOUR
Swedish LD Fredrik Stormby has been making prolific use of GLP's new generation JDC1 hybrid strobe on tour with Gothenburg-based heavy metal band, In Flames, together with co-headliners, 5-Finger Death Punch (FFDP).

Having been operating lightshows for the Gothenburg-based In Flames since 2011 (and been designing their sets since 2014) Stormby wanted to focus on the artwork that the band had been developing for the current European tour.

"I wanted to use a lot of video and set elements," he said. "There is a lot of artwork and figures/elements to look at and my idea was to create an atmosphere and style that really represents the band; you should be able to see a picture and immediately tell that this is an In Flames show."

No fewer than 65 JDC1 hybrid strobes have been helping him in his quest, with Soundforce supplying all the In Flames gear, while Black Box was responsible for the overall shared package with FFDP, whose LD John Santos co-designed the flown rig with Fredrik Stormby.

The rig itself is dominated by 65 JDC1 hybrid strobes. Admitting he had little experience of GLP solutions until recently, Stormby states, "Like so many others I found the X4 Bar series to be an extremely useful fixture — and then I heard about the JDC1, and had the opportunity to try one out." He was soon test driving around 36 of the heads at a private party in Cannes.

"This gave me the confidence to specify them for In Flames," he admits. "We needed a bright LED strobe that we could pixel-map but also get a 'clean' white strobe from. So the JDC1 turned out perfectly, and it's a decision I have not regretted."

Distributed across all the LX trusses and ladders they are used as blinders, colour washers, pixel-mapping effects and strobe. "Therefore they play a major role in the show," he confirms. "We run them in full channel mode."

Asked what features really stand out with the strobe, and he replies, "Everything". By explanation the designer states, "This is a completely different product compared to a Xenon strobe, but I think it mimics the output of a Xenon strobe very nicely in white, due to the dedicated row of white LEDs."

The In Flames tour has been the latest project in an eminent career which has seen Fredrik Stormby and his Green Wall Designs team working with various Swedish and international artists, at the same time acting as programmers and content creators for events such as the Eurovision Song Contest and various TV shows, Festival shows, Theatre and Corporate events. He praises GLP for their back-up. "They have been generous with their support when we have needed it," he says.

As for the JDC1, he summarises by saying, "For what we are doing on this tour it is perfect — I am very happy with its ease of operation. It was up against a few really well known LED strobes and I think it provides a great combination between the best colour mixing models and those that mimic a Xenon strobe in white.

"This can do both of those things extremely well."

Supporting Fredrik Stormby and John Santos are Ishai Mika (In Flames programming), and the In Flames light crew comprising Christopher Engström, Rebecka Erixon, Krister Hedgren and Markus Pittlik. For Black Box, Carla Lumme was Lighting Crew Chief, Dominik Müller, Systems Designer & Dimmer, and Till Bredthauer, Head rigger.
See the use of 30 pieces of jdc1 in cannes
Below you can read about a high-profile event that took place in Cannes during the summer months. 30 pieces of JDC1 were used and the result you have here on film and also a review by competent Light designer Fredrik Stormby.
Enjoy!

"I recently had 30 units of the new GLP JDC1 hybrid Strobe for a private event and my overall experience is indeed very good.The fixtures were used as eye candy, color wash and strobe effects and pixel mapped from a hippotizer.
To start with, this is an incredibly bright fixture, both the RGB colour cells and the white strobe strip. I like the way the fixture is divided up in full channel mode, even the white strobe strip can be divided to 12 cells and added to the pixelmapping, which adds to the versatility of the fixture.
The dimming curve performs very well and colours are nice and even. Most important to me in this case, was the performance when pixemapping.
I think the fixture responds very nicely and performs very well even if the dimming level is brought down to a minimum.
The tilt function is very precise, smooth and fast and is also a great function of this unit. I will gladly specify and use this fixture again as a very all round and good looking strobe hybrid."

Fredrik Stormby
Light and content designer, programmer, operator
Green Wall Designs AB
50 pieces of X4 Bar 20 at tomas Ledins fall and winter show
Last month we told you about Palle Palmé and the 99 X-Bar 20 that were used on Diggiloo. This time Palle is relevant as the lighting designer at Tomas Ledin's show that had premiere September 15 and runs until December 16 at Circus in Stockholm. From next year you can se the show at Rondo in Gothenburg, premiere January 18.
This month we just want to show you some pictures we got from Palle and I was quick to ask him just one qustion, how did you work with the 50 pcs of X4 Bar 20 this time?
- I have used them as a side and top curtain effects in the stage house. Half of them will be placed in the sides of the set, possible to move sideways in and out. And the other half on top bars possible to move in and out of sight for the audience.
Now see for yourself and enjoy Palles work!


99 GLP X4 BAR DOMINATE DIGGILOO STAGE SET
PALLE PALMÉ SPECIFIES AWARD-WINNING FIXTURE FOR SWEDISH TOURING PRODUCTION
For the 15th consecutive year, Swedish LD Palle Palmé has provided spectacular lighting for the Diggiloo outdoor summertime tour, with 59 X4 Bar 20's and 40 X4 Bar 10 from GLP dominating the ever-changing stage set.
Having worked on the event since its inception in 2003 (when it appeared only in Båstad), Palmé says that despite the number of famous artists appearing all receive equal billing — "and that is the success of Diggiloo."

Heading the roster this year has been Robin Bengtsson, winner of the Swedish Eurovision Song Contest, performing alongside Tommy Nilsson, David Lindgren, Wiktoria, Charlotte Perelli, Jessica Andersson, Bruno Mitsogiannis, Andreas Johnson and Özz Nujen throughout the 22 gigs.
Palle Palmé has again turned to GLP's super-versatile X4 Bar battens — an effect he has used on at least five occasions since November 2015. "I was originally given a demo by [Swedish GLP representative] Daniel Rudén featuring all the new fixtures including the X4 Bar 10 and X4 Bar20," he stated. "All were spectacular units."
"The zoom and the tilt range on the Bars is amazing, and then you have a fantastic light output as well. I have not seen any unit on the market so far that can stand comparison. I know that other brands are looking at this but as someone said, 'Why compete with those battens when GLP has already made the best possible?'"

Diggiloo relies on a series of scene changes with different colours introduced, which is where the X4 Bars come in. "I have tried to place them as big as possible in the rig," the LD explains. "This is both above and on the stage floor, over and under the video screen, and as clusters on both sides of the screen, as well as the side trusses. All in all, we try to embrace the entire stage with those battens." The lights are run in Single Pixel Mode (88 channels).
And they are used in a multitude of different modes. "Because it is an outdoor show, and the first act appears in daylight, I use them mostly as a white light effect on the stage with not so much tilting, zooming and colour FX. That is introduced with the second act when the sun has gone down and it is dark."

"Overall I think that the XBar 10 and 20 really bring something else to the set dynamic than the 'normal' moving light does. You can use them as stage wash, set wash, audience blinders, curtain effects, etc. If you use them intelligently they are a great tool for all kinds of show, regardless of whether it is a musical, concert, opera, ballet or a drama. They will surprise the audience everywhere."

All the technical inventory, including the lighting, was supplied by Swedish company Bright with the exception of the video, which is from Mediatec.

Pictures: Malin Nilsson
LD PALLE PALMÉ CHOOSES GLP FOR DANNY SAUCEDOS SHOW!
Danny Saucedo is doing an amazing show at Hamburger Börs and Kristin Lundell who writes for the newspaper Aftobladet gave the show four out of five and a quote that can be read:
- The choreography is gorgeous just like the set design. Then we have not even begun to talk about the powerful light projections on stage, amazing!
With these words, we thought It was time to ask some questions to Palle Palmé, lighting designer behind this success.

Palle, what effect were you looking for when you chose GLP's Impression X Bar 20 to this set?
Since I got the opportunity to use the X Bar 20 in a show at Berns for little more than a year ago, I have had a preference for these ramps. I think they are revolutionary with all it's possibilities as fast tilt, zoom and extreme brightness.

Would you describe how you use the fixtures from GLP and how they were placed at Hamburger Börs?
When the planned set design was shown to me, I felt right away that three rows of X4 Bar 20 could do an excellent job, and that they did. I use a total of 18 pieces in rows of 6, over the floors, ceilings and the orchestra. They are simply fantastic for this show and some moment couldn't be done without them. The possibility of these battens are completely unique. In the old days, you could use Svoboda-ramps with color changer but nowadays these are not as up to date as these bars, and X4 Bar 20 do the job with much better accuracy.

Will you use GLP fixtures again and are there any specific features you have used and appreciate?
- I've become very fond of these fixtures (X bar) and always have them in my mind for future productions.
I also love the X4-L fixture, It is extremely bright and versatile with a number of built in features that are very powerful.

We at GLP Nordic would like to say thanks to Palle Palmé for this and wish him good luck with future productions.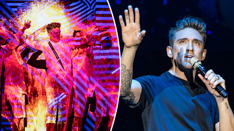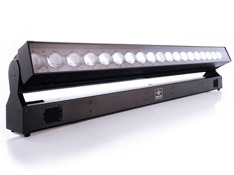 GLP BARS LINE UP FOR CARLSBERG'S GREEN DOOR PROJECT.
Designed to explore the future of Swedish pop culture and the club scene, by featuring some of the country's progressive artists and DJs, the venue is always kept secret until the day before the event. This year, party organizer Peter Björklund revealed the venue as the Metallgjuteriet, the second largest hall in the Nacka Strandsmässan exhibition / event venue. In this extremely long and narrow room a crowd of around 2,200 joined the action, making the event the largest party of its kind yet.

Lighting designer was Anders Heberling who specified 50 of the X4 Bar 20 LED battens, along with eight of the enormous (and extremely bright) GLP X4 XL heads and a further eight of the compact X4 S, with the same impressive zoom. These were supplied by Bright Group Sweden AB, with some of the equipment sub-hired from Motion in Germany. Project manager was Magnus Karlsson, Head of Lighting at Bright Group.

Tasked with lighting up-and-coming artists such as Gravity Boys & Bodycam, Mabel, Helh and Sammy & Johnny Bennett, Anders said, "When I first saw the room I immediately knew I wanted to use one main fixture and hang down the length of the entire room, to create a kind of runway to the stage."

When the stage location was set he realized he had a massive 48 meters to work with. "It was an easy decision to use 48 of the X4 Bar 20's — this served as both live performance lighting and audience lighting," he said. For stage effects during the live performances he used eight each of the X4 XL and X4 S, positioned around the stage, and this collectively delivered more than sufficient fire power.

Although nothing was custom built, the rig was anything but conventional. "Green Door Project, for me, is about trying to bring the performances and audience together," continued Anders. "With the line of Bar 20's running from the rear wall to the DJ, this feeling was accomplished. The room felt both big (which it was) yet intimate at the same time."

Using the X4 Bar 20 over stage as front lights had worked surprisingly well, he confirmed. "I could let the performers walk through the razor-sharp narrow beam but then set it in wide mode for a powerful wash effect, enabling the audience to see who was performing."

Summing up the event, Anders Heberling said he had been hugely impressed by the impact of the GLP X4's, and in particular the X4 Bar 20. "It is remarkably easy to use, and the rigging and alignment features are simple yet robust. Programming in Single Pix mode combined with the exceptional color mix, zoom speed and tilt speed, opened up the possibility for a lot of creative programming, in basically no time.

"As for the X4 XL, this is really bright! Used mainly as back lighting, the fixtures washed out the room in a spectacular way. They also worked very well as strobes and generated an Impressive color mix."
GLP Reaches New Heights at Prolight + Sound
Major new product launches combine with two world-class lightshows!
GLP had much to celebrate at this year's Frankfurt Prolight + Sound, where their profile reached a new zenith.

Aside from unveiling two revolutionary new products, the company did light up it's largest Frankfurt booth ever (#4.0, G20), incorporating a new version of the inspired lightshow designed by Los Angeles-based designer, Matt Shimamoto (Volt Lites) which has so impressed visitors to America's premier LDI Show in recent years. At the same time GLP launched the much-anticipated JDC1, a true hybrid LED strob!

jdc1 strobe and X4 atom Free Connect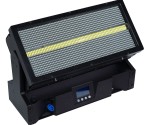 The powerful JDC1 has been designed to deliver unprecedented versatility. The fixture contains a traditional single tube element with an incredibly clear, bright white output; this combines with a surrounding full face of RGB LED power, utilizing 1,440 high quality LED's. The possibilities are endless as these two elements have independent control and can be used as separate pieces, or combined for stunning effects.
In addition to working as a powerful strobe light, both the tube and the full-face sections can be run continuously for high output blinder and wash light effects, which never reduce output or have thermal cut-outs.
The JDC1 is a whole new class of strobe that offers an incomparable feature set that goes way beyond the definition of a hybrid.
Also on showwas the new Free Connect unit for the X4 atom, giving users the freedom to use individual Atom heads in any location. Completely free of wires, the Free Connect contains a rechargeable battery and inbuilt Lumen Radio CRMX wireless DMX control, all packed into a smart housing that features an IP65 rating, matching the X4 Atom head. It features an 8-hour running time while an on-board menu allows users to customize the operation of each Atom and the ability to store a DMX snapshot for playback without a controller.